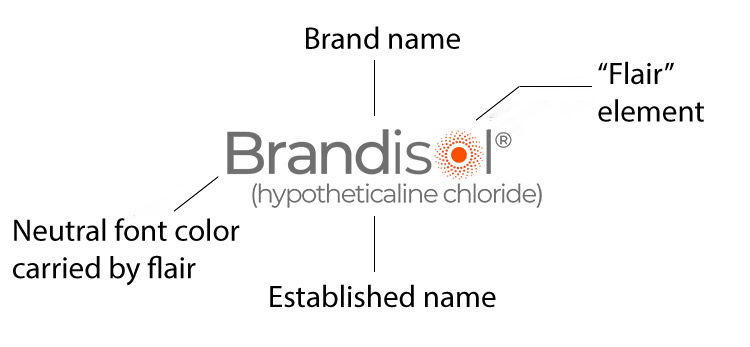 The brand name

What's in a name? When it comes to a drug's brand name (also called its proprietary name), the answer is a lot.

Some of the pharma brand names you're probably familiar with in the marketplace may seem arbitrary or bizarre, but there's a reason why the words seem strange. New molecules must have original names. Making them memorable without sounding too much like a) a real word in the languages patients are reasonably expected to speak, and b) another brand – not just in pharma, but in the commercial world at large – is a harder task than you may think.

When deciding on a brand name, you need to ask yourself if you want to incorporate your main indication, part of the name of your molecule, some other aspect of the drug, or a combination of the two. A unique-sounding syllable in your molecule is a good starting place. That said, plenty of companies go the completely arbitrary route and base the name solely on pronunciation and memorability. There's a competitive aspect as well—would you like to sound slightly similar to the competition, or try for a phonetic opposite? There are strategic implications in every aspect of the brand name.

The established name

The established name, also called the non-proprietary name, must be included in your logo. The FDA has specific recommendations for size and prominence of the established name. Make it too small, too light, or too difficult to read and you'll fall afoul of regulations. Finding the right size, color, and positioning of the established name is a delicate balancing act between following these regulations and creating a logo that actually looks good—not cluttered.

The font

All caps? First letter capitalized only? Serif? Sans? Bold? Heavy? Light? Italic? Shadowed? Textured? The options for typography are endless and should feed into your brand's aesthetic as a whole. For most drugs, you'll see the brand name in all caps with a sans-serif, heavier typeface. The established name is typically in sentence case and will appear lighter and smaller. For drugs that treat quality-of-life issues or special populations, the typography tends to get a bit more stylized. Different niches have different approaches to typography, especially women's health, dermatology, and pediatrics. Some women's health or dermatologic drugs utilize stylized serif or calligraphic fonts with a lighter weight to capture softness, beauty, sophistication, or femininity. Pediatric drug logos may try to be more playful, which a font can convey in tandem with visuals and colors.

The colors

The color palette is more important than you think because colors are heavily associational for consumers—conceptually, commercially, and emotionally.

Those associations matter, and there's been plenty of writing on the subject. However, pharma is its own unique space with its own associations. Because of the ubiquity of light green in wellness-focused nonprescription products, this color has been scarce in pharma logos in recent years, for example. We've seen it making a comeback, but it's not a top 3 color for pharma logos.

Blues are indication-neutral, but they can evoke liquid, clarity, or soothing for indications that tangentially relate to those principles. Red also sees use across indications but gets significant use in the cardiovascular space. For antimicrobials and other anti-infectives, colors are a mixed bag. We've seen darker yellows/golds and grays being used in men's health contexts, and blue is often a mainstay in male treatment indices as well.

Women's health drugs used to heavily rely on a pink palette, and that still appears in many logos for women's health, but the "feminine" palette has expanded to encompass purples, light teals, mint, peach, and even pale yellow. Many women's health drugs have bucked the trend entirely.

Bolder teals, fuchsias, purples, and greens show up across indications without specific associations. In fact, teal and fuchsia are incredibly popular. The blockbuster drug Humira is one example of prominent fuchsia use.

Gray is often used in lieu of black for the non-proprietary name so it can be carried through other aspects of the design and looks less harsh. However, too light of a gray goes against the FDA's guidance on prominence, so it's usually a darker gray.

Brown is hardly ever used, for obvious reasons. Orange isn't as common as it once was and is typically relegated to being an accent color.

Your primary color is important, but the overall color scheme matters too. Complementary color schemes, especially in brighter colors, can seem energetic. Choosing colors closer on the color wheel, especially gradients, can seem soothing or sophisticated. Pairings with a neutral gray or black can evoke simplicity, calm, or seriousness. You'll want to see lots of combinations to get a clear picture of how they function together.

The "flair"


There's always at least one piece of flair on any pharma logo. Some are very simple: radiating lines, a partial circle around a letter, a stylized swoop under the brand name, etc. Some are more involved: multiple added elements, small pictures, or text effects where the letters have been transformed into representative pictures. Some attempt to evoke the indication, and some are purely geometric. The "flair" will typically be carried through to brand materials and design as whole, so it's important to choose something that's impactful but not busy.

Why having an expert advertising partner matters for logo design

The logo functions as a Rosetta stone for your brand, containing a key to your typography, your main and accent colors, and your visual devices. If a logo ends up meshing poorly with the overall creative direction for the drug's collateral, the consumer may view your brand materials as discordant, busy, or even slapped together.

Experienced artists, like the team at bfw, will provide a range of options based on competitive intelligence, strategy, industry best practices—always keeping an eye on future creative—in order to create a logo that will carry your brand through to market effectively.