Medical advertising for practice groups and hospital systems poses a different set of challenges than advertising for individual doctors and practices, but there are some commonalities too. The same tactics can be viable across organizations, including a significant environmental advertising component. You'll also need to be cognizant of HIPAA regulations when developing tactics in partnership with an agency. Hospitals and practice groups – just like individual providers or practices – are frequently the target of steep fines related to HIPAA infractions. But here's where things start to get complicated: scale.
The greater scale of operations at a practice group, hospital, or hospital system makes advertising efforts more complex, more expensive, and more high stakes. Managing an online presence for an entity that's both geographically and thematically complex is a major challenge even without the additional privacy constraints placed on healthcare. One area where hospitals and practice groups frequently fall short online is user experience. The problems can start before the website even loads. Case in point: Google says the optimal website loading time is 2 seconds, and most healthcare websites take 5.4 seconds.1 There's extra complexity on the back end of hospital and practice group websites too, thanks to portal areas (for patients or clinicians) and an array of external linked properties. Ultimately, a larger healthcare organization's site will need to be highly useful, not just creative, to support advertising efforts as a whole.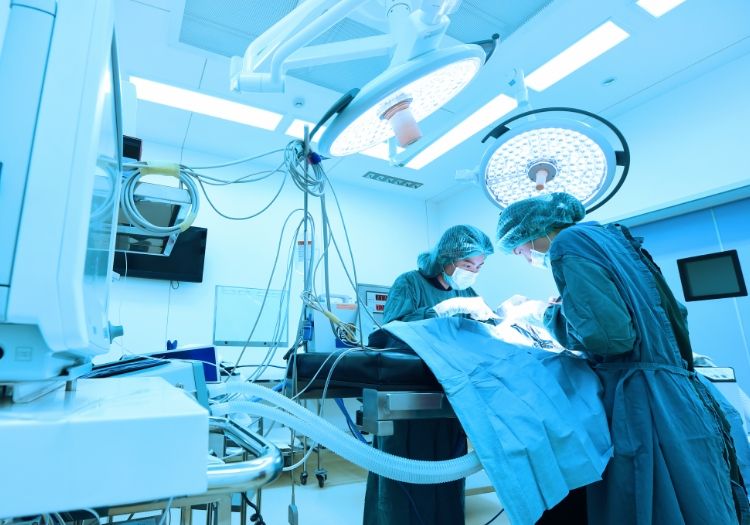 What issues interfere with good user experience on a healthcare organization's website?
Usefulness, usability, and accessibility go hand in hand. Unfortunately, that's a major stumbling block even for top hospitals. StatNews conducted a web accessibility audit of top hospitals (as ranked by U.S. News and World Report), which found that only 4.9% had homepages compliant with standards for web accessibility.2 80% were partially compliant in various ways, still presenting potentially serious issues to disabled users. The standards referenced by the audit come from the World Wide Web Consortium (W3C)'s guidelines. The latest Web Content Accessibility Guidelines were released in 2018 to help provide a framework for creating sites that support people with disabilities, as well as a growing demographic of older internet users.3
According to the W3C's research on accessibility for older users, there are four main areas of limitation to consider4:
1. Aging and Hearing Loss
Hearing loss makes audio hard to discern at standard volumes, makes it more difficult to separate foreground from background noise, and makes it easier for higher pitched sounds to be missed entirely. Moderate and severe hearing loss is common in older adults (1 in 3 people aged 65-74 have hearing loss5), so audio-based creative can pose serious accessibility issues. It's crucial that audio components include captioning and are accompanied by alternative methods of conveying necessary information.
2. Aging and Vision Decline
Vision decline can make it more difficult to focus on tasks, perceive colors (especially violet light), and differentiate contrast. That means computer screens can be harder to see in general, colors like blues and greens become difficult to perceive compared to reds and yellows, and contrast becomes less evident. Creative design for healthcare should take these limitations into account. That may mean you need to find a color scheme for your website that departs slightly from established brand guidelines. Considering the prevalence of greens and blues in healthcare branding, it's not a bad idea to audit your colors.
3. Aging and Cognitive Decline
Cognitive decline can affect the ability to navigate content and weed out unnecessary material, cope with information overload, concentrate on multi-step tasks, and avoid distraction from movement. Heavy blocks of content, intrusive pop-ups, blinking animation, and complex/multi-step user funnels aren't just an annoyance for older or impaired users—they can actively hinder access to a website's most important information.
4. Aging and Physical Decline
Physical decline can make it more difficult to finely control a cursor using a mouse, trackpad, or mobile phone. Making the clickable area for buttons or links too small can be a substantial usability concern for users who have lost some of their fine motor control or are suffering from age-related conditions that cause tremors. A crowded area with multiple clickable items close together can also pose a problem for these users.
The StatNews audit found that the most common failure of hospital pages was proper color contrast between text and background (probably from design being put before accessibility). Many pages also lacked text for screen readers that the visually impaired use to access websites or had improper labeling that limited the usability of assistive technology. That makes it harder for people in need to take control of their health online—whether that means accessing a patient portal to make an appointment with a provider or downloading medical records.
What other demographics do I need to be aware of?
On the other end of the spectrum are young users who overwhelmingly access the internet via mobile devices—not desktop. As of November of 2022, over 60% of global web traffic comes from mobile phones.6 96% of users aged 18-29 have a smartphone, compared to 61% of users 65+.7
Nearly 30% of users aged 18-29 say they do not use broadband at home but instead access the internet via mobile phone, compared to 12% of users 65+. For that significant number of users, a smartphone may be the only way they access their health information, make appointments, or research facilities in their area. Not optimizing the mobile experience is simply not an option if you seek to capture these users through digital advertising.
Hospitals and healthcare organizations must strike a delicate balance between ensuring accessibility for elderly or disabled users while providing a smooth mobile experience for users who will likely never visit a desktop site. Since most advertising will ultimately drive patients to visit a website, the online experience is the bedrock of any successful campaign.
Choosing an experienced medical advertising agency with a strong digital pedigree can help you achieve a web presence that gets results. Touch base with our experts to see how we can help you.
References: