In 1996, Tom Ferguson coined the term 'E-patient'. He described e-patients as people who research their own ailments or the ailments of family and friends. Ferguson focused his career on arming patients with healthcare knowledge because he saw the positive effects the behavior had on outcomes. He noted that the behavior resulted in receiving better care and different relationships with healthcare providers.
Since then, many tools have emerged that make it much easier for e-patients to research and share experiences. Not only that, but the simple shortage of time faced by physicians has created a scenario in which patients need to have a better understanding of the treatment process.
Here are the some of those developments, and why pharma marketers might want to adapt their DTC advertising approach in the 2020s.
E-Patient Media Developments
When Ferguson described the e-patient, there were few digital resources that e-patients could rely on. Electronic mailing lists and online forums the most established sources. WebMD was in its infancy. And there was no social media to speak of.
Since then, however, social media has opened up new opportunities for e-patients to exchange information.
2004: Facebook was founded.

Patients who were uncomfortable taking advice anonymously now had a way to scan the credibility of a source by viewing their personal information.

2005: Youtube Created

Adding to the variety of media that sprung up in the early 2000s, Youtube emerged as a popular way for influencers to share health stories and support.

2006: Twitter emerged.

Users now had the ability to follow individuals and create a single feed of relevant health information.

2007: The first iPhone launched.

The iPhone brought the concept of 24/7 connectivity to life with high-fidelity mobile internet and apps.
This allowed e-patients to mine the internet and apps for healthcare questions large and small while on the go.

2010: Instagram was founded.

Credible personalities gained a platform to tell stories in visual chunks, creating a less academic but more intimate forum for sharing health and lifestyle tips.

2015: Spotify added podcasts.

Patient advocacy groups and patient influencers can talk about hard topics without individuals being put on the spot.
Social media has become a favorite of the e-patient. A large portion of their activity is asking questions, and social media is the quickest way to get lifestyle or treatment advice from someone in the same situation.
HCP's Need Patients to Assume a Larger Role
But there is also another environmental factor to consider: HCPs just don't have enough time to spend with patients. More and more of the patient load is being placed upon NP's and PA's. According to the AAMC, the United States may face a shortage of 122,000 physicians by 2030.
And again, there are modern tools that can equip patients who make an effort to help out. Apps like Epocrates and ReachMD were designed to be reference points for physicians, but I think that we will start to see patients using them as well. In the future, I think WebMD, GoodRX, and patient advocacy sites will be to e-patients what Wikipedia is to a research journey: a good starting point.
In the future, those who want to get the most out of their treatment may be forced  to make some decisions for themselves. And the repurposing of HCP resources could help this happen.
Social Media Marketing to E-Patients
The digital information gathering of e-patients depends a lot on the type of condition they have.
For example, sufferers of chronic conditions that carry a social stigma are more likely to turn to anonymous forums for peer-to-peer support (see page 274). Someone who is suffering from depression might seek information on Reddit, where no personal information is shared, and users can vote on replies to a question in order to determine their validity. An influencer campaign might have trouble generating dialogue from this audience.
A better option might be to advertise an anonymous patient satisfaction survey on Reddit, GoodRx, and other places where stories and information can be shared anonymously. The satisfaction survey could play into the fact that, as Zhang and Zhao have mentioned, these patients are twice as likely to consult online reviews when searching for treatment information. Combining this push approach with a pull tactic like Google Ads (complete with a zip-code based doctor finder) would make more sense than trying to get audiences to share their stories on a DSA profile.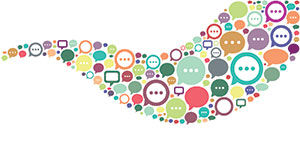 On the other hand, sufferers of chronic conditions without as much of a stigma (like COPD and multiple sclerosis) are perfect for influencer campaigns. The day-to-day management of these conditions is easily supported by feedback from others, and patients aren't afraid to admit they have the condition.
For these conditions, pharma marketers have had great success generating social media presences. Boehringer Ingelheim's @Drive4COPD Twitter campaign created a surge of COPD screenings by partnering NASCAR drivers. EMD Serono's MS Lifelines has earned over 240,000 Facebook followers to date.  These campaigns succeeded because they provided value to their audience without requiring any form of contribution.
Tailoring Pharma Messaging to E-Patients
It might also be a good idea to increase the complexity of messaging to e-patients. Since e-patients take responsibility for educating themselves on healthcare matters, they will have a higher level of knowledge of patient studies and medical diction.
I'm not to send them HCP materials (since the FDA requires that patient messaging be understandable to the layman), but providing efficacy studies and patient outcomes instead of paraphrasing superiority findings might ingratiate a brand to consumers who take it upon themselves to know the whole story.
As long as pharma advertising teams correctly identify where e-patients congregate, there will be less risk of confusing the layman. Leveraging special messaging when targeting peer support groups, erudite Google keywords, influencer audiences, and e-patient programmatic audiences could become more of a differentiating factor in the future.
E-Patients Are the Future
We've seen more and more DTC advertising in the past few years for good reason. Patients are willing and capable of sharing the load with their doctors. Pharma marketers who can segment their DTC audiences between e-patients and passive patients are likely to be rewarded.
Companies seem to be preparing for a new age of e-patient control. The 2019 CVS-Aetna merger and CVS's plans to provide primary care offerings hint at a future where patients come and go at their own will. In such a scenario, there would hardly be any patient-doctor relationship at all. If this plays out the way CVS hopes it will, pharma companies will have to completely rethink their DTC strategy. And equipping e-patients with knowledge would have to be the #1 concern.