We're on to the final installment of our social series: promotion. This post provides some examples of pharmaceutical social media campaigns for discussion. The main point we want to get across is that not all profiles need to be promoted the same way.
Focus on scalable tactics if your brand's profile plays a background role in your NPP. Pay-per-click campaigns like sponsored content and video promotion can build an audience without breaking the bank. But, if you're hoping to generate a big splash in the coming year, consider an influencer campaign. Influencer campaigns can have a large impact on product launches and DSA pushes to grow your market.
Let's start with a tried-and-true technique: sponsored content and sponsored posts.
Pharmaceutical Social Media Campaigns: Sponsored Content
A safe, effective, and cost-efficient way to earn followers is to promote content directly. Give them an appetizer. If the content resonates with your audience, they'll be hungry for more. Consider 15 Words That Mean Something Else to Someone With Relapsing MS. The content promotes EMD Serono's MS Lifelines® page, which has a one of the highest followings of any pharma profile.
'15 Words' is a slam dunk when it comes to meeting the criteria that make for good social media content.
It's simple­. It redefines words based on how the audience is likely to think about them.
It's visual. The images are nearly as expressive as the words and both work together to create one idea.
It's mobile-friendly. The piece requires very little reading. Each word and the image associated with it will occupy the entire screen of a mobile device to reduce the need for squinting or scrolling. The page will load quickly because of minimal styling.
The only difference between the first piece of content and the follow-up piece is that the follow-up provides useful tips.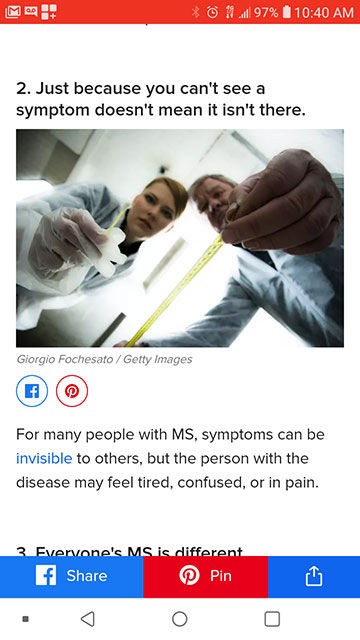 This is an effective strategy. It positions MS Lifelines® as an emotional outlet and as a practical source of information. It shows the audience that the page is multi-faceted and "browsable." They can visit it when MS is on their mind. If they need an emotional connection to others with MS, they'll be able to browse its content for that. If they're looking for better ways to deal with their MS, then they won't have to scroll far to find tips and facts. Plus, everything is accessible on-the-go with a smartphone or tablet.
Sponsored Infographics
Sponsoring posts with infographics is another great way to get audiences to engage with your profile. Infographics are eye-catching, cheap to produce, fit a wide variety of formats, and are easy for audiences to read. They're also a good way to provide non-video content to mobile users.
Infographics are especially useful when you need to visualize statistics. Many disease state pharmaceutical social media campaigns have a need for this, so the two make a great pair.
Infographics are a great piece of easily digestible content to use for your initial page promotion campaign. They're eye-catching enough to attract users to your page, and interesting enough to keep users around.
Pharmaceutical Social Media Campaigns: Video
Another way to earn a following for your pharma profile is to promote it with videos. This tactic doesn't require you to burn through good content to get a following. It's also scalable and virtually guaranteed to generate engagement. Tweets with videos are six times more likely to be retweeted and lift brand awareness in viewers by 50%. On Facebook, video posts have a 25% higher engagement rate than photo posts and a 79% higher engagement rate than link posts.
Video CPMs are also remarkably low. This is important for lower-budget promotion campaigns that can't afford to light up social media with high-profile influencer posts.
Taltz® Page Promotion Video Campaign
Here's a page promotion video that we found in the wild:
The Taltz® video above does some things right and needs help in other areas.
In the "right" column, note that the video doesn't lean on audio. This is a plus because 85% of video content on social media is viewed with the sound off. The video also features captions—an absolute necessity if your video is going the silent route.
However, the Taltz® marketing team probably should've sponsored a video with a less product-focused theme. A simple gif like the one below might've been a more tactful approach:
When the air is dry, #TaltzTips suggests drinking plenty of H2O. Oh, and using a good humidifier. pic.twitter.com/OsYtjy7Pmw

— Taltz® ixekizumab US (@taltz) December 4, 2017
The gif focuses on providing tips for the daily lives of patients, which is valuable to anybody with plaque psoriasis. Going straight to the hard sell before establishing a relationship is more likely to be rejected by your audience. The comments section of the promoted video was pretty rough.
Cosentyx Videos Prove This Point
More support for a lifestyle focus and soft sell comes from Novartis' Cosentyx® Twitter page. The brand has experimented with different levels of investment in its sponsored videos, from videos featuring Cyndi Lauper to a series of patient interviews conducted by a KOL. To date, the page's most liked video is a simple lifestyle tip about using soft-handled grips. The video has about as many likes as all of the Cyndi Lauper videos put together:
Soft-handled grips can make it easier to use utensils. pic.twitter.com/UbcOp4eK9b

— COSENTYX®secukinumab (@COSENTYXUSOnly) December 12, 2016
The video should feature captions so that it's understandable with the sound off. But people were interested enough that they turned the sound on. That's the power of tips, people!
Pharmaceutical Social Media Campaigns: Patient Influencers
The tactics above are good for promoting a standalone profile. The pay-per-click format avoids putting all your eggs in one basket. But, if you are looking to really steal the show, pharmaceutical social media campaigns that leverage influencers have the highest potential. Influencer campaigns are powerful—especially when the campaign goes beyond social media.
Novo Nordisk's @racewithinsulin succeeded because the company and its partner Charlie Kimball participated in events and at races.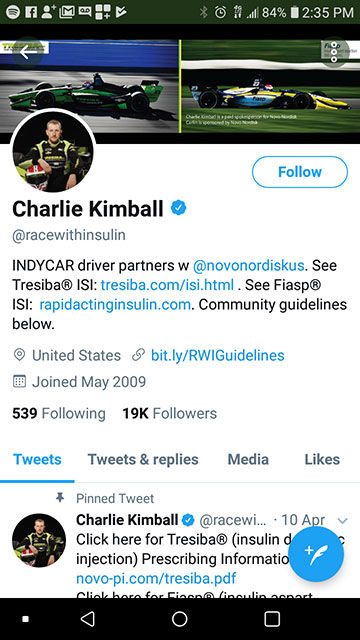 Boehringer Ingelheim's @Drive4COPD won campaign of the year in 2011 by creating over 2 million COPD screenings. The campaign employed the same combination of online promotion and event sponsorship.
Digital-Only Influencer Campaigns
Influencer campaigns can also be effective when they only exist online. The partnership just needs to make sense. Duchesnay USA's launch of the morning sickness drug Bonjesta® in 2018 featured a significant amount of influencer marketing. Some of it went well, but some didn't.
The Good: Jana Kramer's Posts
The successful portion of the campaign focused on actress, country music singer, and Instagram personality Jana Kramer.
Kramer struggled with morning sickness during her 2018 pregnancy. Her baby announcement mentioned Duchesnay USA's morning sickness formulations as being key to managing her symptoms. The post earned well over 300,000 likes and over 5,000 comments. Kramer's following promotions for the brand were more forward and were met with less criticism. When she promoted the brand by holding a Bonjesta® bottle up to the camera in August, there were comments praising the brand.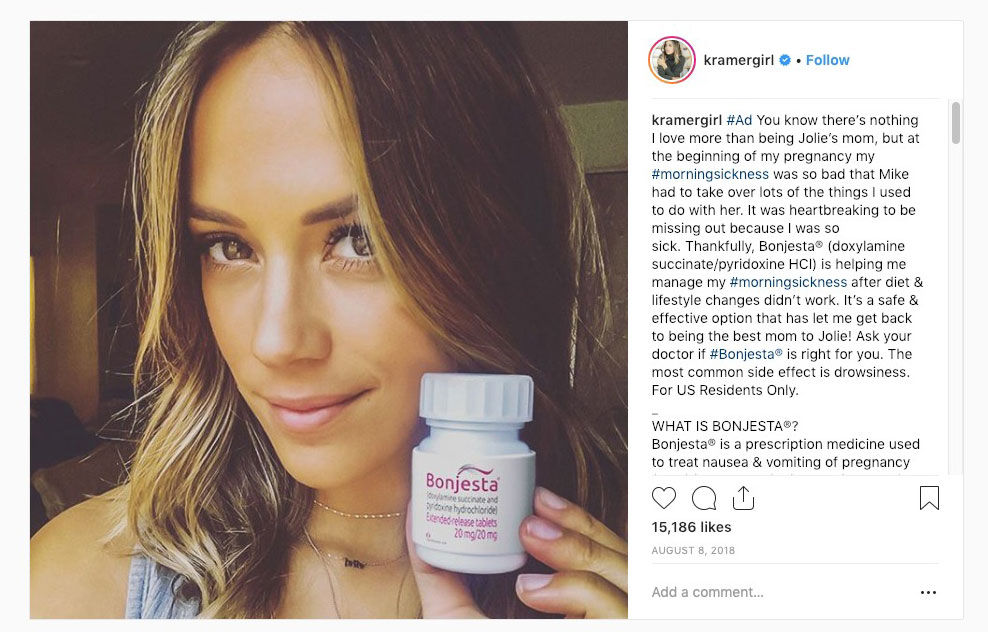 That's the great thing about pharmaceutical social media campaigns. They can augment a larger awareness or lead-generation initiative, or they can serve as a stand-alone tactic. Again, though, campaigns and executions need to feel natural and not forced.
The Not-So-Good: Kim Kardashian's Posts
The Kim Kardashian arm of the Bonjesta® launch promotion shows what can happen when an influencer campaign is forced.
Like the first Kramer posts, Kardashian mentioned that Bonjesta® was a formulation of a drug she had previously taken. However, Kardashian's post differed in one big way: she wasn't pregnant at the time.
Kardashian promoted the brand in August. The product launched in April. Followers immediately noticed that Kardashian could never have taken the new formulation. They noticed that her child (born earlier in the year) was carried by a surrogate. Kardashian couldn't have taken Bonjesta®. The last time she carried her own child was in 2015. Bonjesta® launched in 2018.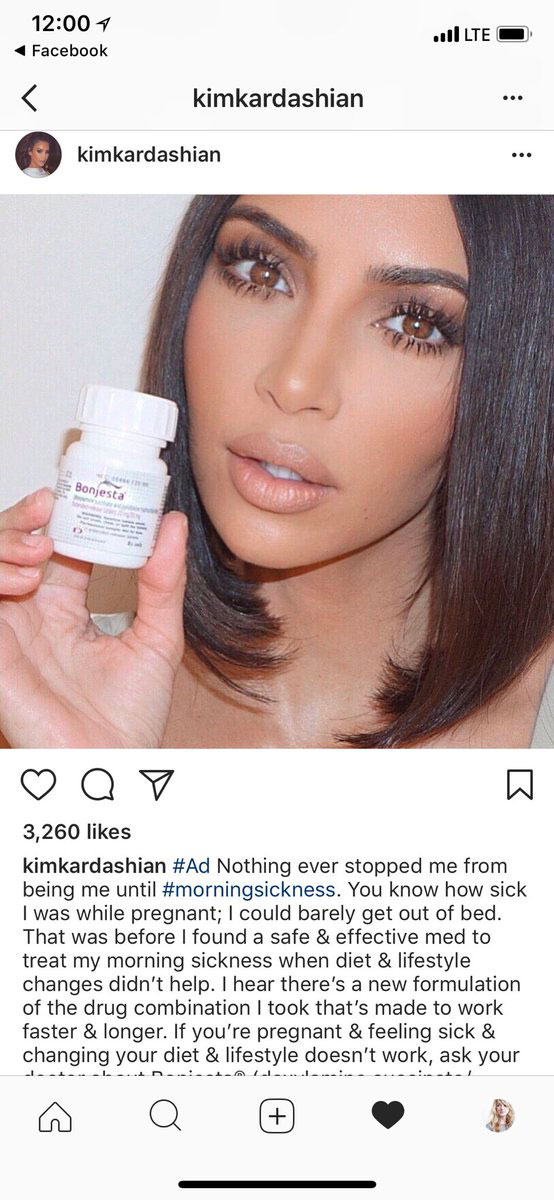 Once the charges of disingenuousness were made, the audience was out for blood. They turned their attention to the medication.
Angry fans pointed out that the original formulation was pulled from the market in the past for causing birth defects. One comment claimed that the FDA's approval of the newer formulation was short-sighted. It suggested that anybody who takes Bonjesta® is at risk of having their baby suffer from birth defects as well.
The inconsistency in Kardashian's story fanned the flames of skepticism. While the brand earned millions of impressions from the post, the money probably could've been better spent elsewhere. We're Monday morning quarterbacking here, but there it is.
Honesty Is Key
These examples illustrate the importance of honesty in patient influencer campaigns. Kimball walked the walk. He put a lot of thought into his tweets, showed up at events, and promoted the product because he used it and believed in it. Jana Kramer was pregnant while the product was available and used it. Kardashian didn't.
Handle this tactic with care, because it has the greatest potential to flop.
Respect Users and They'll Reciprocate
We have to remember that social media isn't one-directional—it's a conversation. People use social media to participate rather than to be spoken to. Try to keep that in mind as you choose your platform, plan your content, select your influencers, and execute pharmaceutical social media campaigns.
The increasing role of patients in the treatment process means that earning social media followers can impact sales. If you give them what they want, they'll view your brand positively. Show them respect. Offer them quality content. Avoid over-promoting your product. If you take care of these basics, you'll earn a following. Down the road, your brand will be the one that your followers remember when they're talking to their doctor.
If you enjoyed this content, you might want to check out the other parts in the series. Part one covers research, part two covers profile optimization, and part three covers content. We hope you liked the series. Let us know your thoughts—leave us a comment! We want to hear about your favorite pharmaceutical social media campaign, your content idea, or a topic you want us to write about in the future!
MS LifeLines and the MS LifeLines logo are registered trademarks of Merck, KGaA, Darmstadt, Germany.
Taltz is a registered trademark of Eli Lilly and Company, its subsidiaries and affiliates.
Cosentyx is a registered trademark of Novartis Pharmaceuticals Corporation.
Bonjesta is a registered trademark of Duchesnay USA Inc.