Back in 2020, we covered some ways reps and pharma companies could continue to reach healthcare professionals (HCPs) during the COVID-19 pandemic, touching on pharma marketing strategies for an increasingly remote-only promotion landscape. As the U.S. continues its march towards a state of normalcy (whatever that entails), in-person promotion is back on the menu. That said, there's no denying that habits and preferences have changed during the age of social distancing, remote work, telehealth, and contagion fears—potentially for good.
Ultimately, being flexible is key. Let's explore two aspects of pharma marketing where staying nimble may help you get ahead in 2022:
Rethinking Collateral
Even as COVID fears begin to wane, some HCPs may not respond to in-person efforts the same way and may not prefer to have any physical collateral in-office moving forward. Consider designing hybrid collateral that works equally well digitally or in print, continuing to prioritize digital-only approaches for outreach (emails, promotional features in journals, websites), and incorporating self-guided options for HCPs like QR codes that allow for use of a personal device to access promotional materials.
One area where habits may have shifted irreversibly is the use of visual aids. Acceptable levels of personal space have changed and may never return to normal. One study found that these boundaries have expanded by 50% or more since the start of the pandemic.1 Sitting closely and guiding someone through a visual aid (regardless of whether it's on a tablet or in a print booklet) may be less palatable for HCPs and reps alike in the post-COVID era. Devising engaging alternatives that keep individual space bubbles intact will be a boon to personal promotion.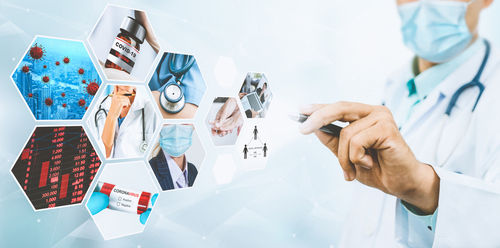 Returning to Conventions and Trade Shows
HCP organizations are resolutely planning for in-person annual meetings this year, which means expos for industry, in-person learning sessions, and KOL presentations are something to look forward to outside the context of a videoconferencing platform (thank goodness). Annual meetings for some of the largest orgs (ACP, ACOG, and AAD, for example) are taking place in the first half of the year and present pharma companies with a chance to get back in the game and understand how the convention landscape may have shifted during the COVID hiatus. Late 2021 saw a surge in event attendance—a trend which should hold true for 2022 barring any emerging variants. That means nailing your tradeshow marketing materials can have a real impact this year.2

While pharma has its own quirks, the principles of marketing effectively at trade shows in the age of COVID apply across industries. Reducing physical collateral, staying value-focused with swag, constructing spaces that feel open and airy, honoring personal space, and integrating innovative, hands-free digital options in booth design are going to be evergreen strategies moving forward. Meeting people outside of a screen, exploring actual physical booths instead of lackluster virtual booth pages, and connecting with their peers will be a substantial draw for HCPs in 2022.
The road to "back to normal" is going to be a process of discovery for marketers, representatives, and healthcare professionals alike. Staying agile and being realistic about continuing pandemic-related impacts should give pharma brands a leg up moving into 2022.
Need an expert partner to help triangulate your strategy? We'd love to hear from you.
1 COVID Expanded the Boundaries of Personal Space—Maybe for Good. https://www.scientificamerican.com/article/covid-expanded-the-boundaries-of-personal-space-maybe-for-good1/
2 Big events are back. https://www.vox.com/recode/22466585/events-concerts-sports-festivals-conferences-expos-pandemic-return