Through our years of advertising pharmaceutical products, the bfw Life Sciences advertising team has found a few digital platforms that work consistently. Though all pharma brands require a tailored digital advertising plan, there are some digital advertising outlets that are usually a good idea to use. Without further ado, here are the core digital advertising components for advertising pharmaceutical products.
Google Ads
Google Ads is an essential program for most products—and it's great for advertising pharma brands as well. But advertising pharmaceuticals on Google Ads requires additional steps to be successful.
Search Ads 360 Certification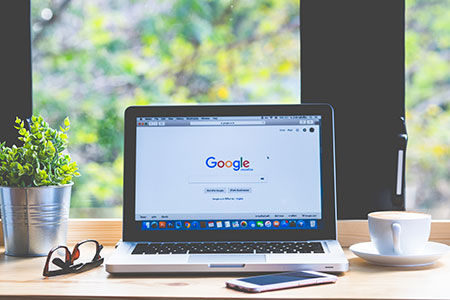 First, make sure you get Search Ads 360 certified by completing the Search Ads 360 Certification Exam. Doing so will allow you use the "Prescription treatment
website" Display URL option.
We always recommend implementing this option to assure the highest level of FDA compliance—something that we take very seriously at bfw Life Sciences. Advertising pharmaceutical brands on Google puts you in contention with sites like WebMD and patient advocacy websites. Using the "Prescription treatment website" will make sure that you are notifying users that they are about to click on the brand's website so that they are aware that the information they are being shown is from the manufacturer itself.
Get Pharmaceutical Manufacturer Certification
Another step you will need to complete is to get your Google Ads account certified to advertise pharmaceuticals. Visit this page, fill out the necessary account information, and have the pharma brand's VP or President of Marketing sign letter provided at the end of the information collection.  Scan the letter and submit it to Google.
Organizing Your Account
Another key aspect of advertising pharmaceuticals on Google is making sure you send consumers and healthcare professionals who click on your ads to the correct locations. You don't want to provide a consumer with information intended for an HCP and vice-versa. To achieve this,
Create at least two campaigns for each audience:

One for branded searches.

These searches mention your product name and are highly valuable. You don't want to miss out on these and let them go elsewhere to get their information.

At least one for unbranded searches.

These searches don't mention your product but suggest that someone is a candidate for taking or prescribing your drug.
They might be searches about the cause of a condition, treatment options for it, or which drug is most effective for treating it.
Since the FDA requires that the sophistication of promotional language should match the level of the audience's medical knowledge, it is likely that you will have a website for HCPs and a website for consumers. The HCP campaigns will direct traffic to the HCP site and the consumer campaigns will direct traffic to the consumer site. Doing this allows you to portion out your budgets according to branded search volume. This is a critical step to making sure that you are capturing as much branded traffic as possible without giving too much budget to branded searches. You want to save as much money as possible for unbranded searches so that you can maximize the amount of clicks you can capture.
Analyzing Keyword-Audience Agreement
It's vital that you make sure you are targeting the right keywords for each audience.
A simple example of this is making sure that "home remedies for acne" is placed within the unbranded DTC campaign, and making sure that searches for the pharmacokinetics of your drug are in your branded HCP campaign.
This task is getting more complicated.
Consumers are getting smarter and are using terms that are more and more in-line with what you would expect an HCP to search for. "Medication Z contraindications" might have been an HCP term in the past, but if you check the conversion rates and find that users are converting more often on the DTC site for these terms, then you might consider adding it to your unbranded DTC campaign instead of your HCP campaign.
For more tips on optimizing your pharma Google Ads campaign, check out our article on the subject.
Programmatic Advertising
Targeting HCPs online can be very expensive. Space on professional education websites guarantees exposure to the right audience, but sometimes it's just not in the budget. Programmatic advertising is a good substitute for ROS purchases on such sites.Leveraging programmatic advertising to target HCPs will allow you to do a few things.
Retargeting
If you are unaware of what digital retargeting is, digital retargeting is simply placing a tracking pixel on the device of someone who enters your site (like after clicking your branded HCP ad). This pixel places a cookie on the target's browser and lets your programmatic campaign know when the user shows up on an in-network site.
Since programmatic vendors have large, high-quality inventories, you can be sure that you can follow clickers once they go to other sites.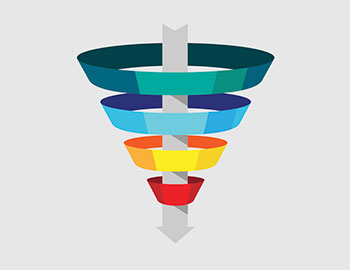 Using retargeting guarantees that users who don't convert the first time will be given the chance to come back later. It is a very cost-effective wave to advertise to users who are still in the consideration phase.
Prospecting
Another benefit of using programmatic advertising is leveraging third-party lists. Many vendors own HCP target lists that have been purchased by the vendor and then expanded with behavioral algorithms. Advertising to these lists is a cost-effective way to target physicians.
If you find a list that is particularly effective, you can create a lookalike audience based on those users. Lookalike audiences are determined by computer algorithms that collect browsing information on known audiences (like a list of devices tied to NPI numbers) and then look for other devices that are not part of that list but that have similar characteristics.
So, for example, if many of the users on the vendor list browse Healio.com, then the lookalike audience will look for users that browse Healio.com or similar sites on its network. Lookalike audiences allow you to cast a larger digital net than would be possible otherwise and can pay large dividends.
Email
Email has been around longer than programmatic advertising and Google advertising but it's just as important as ever.
Pharmaceutical email advertising is an essential tactic in your HCP media plan. Many doctors won't stray from electronic health records when using their office devices, so you won't be able to target them on Google and other websites. But virtually all doctors have an email that is registered to a professional organization.
There are a couple ways to leverage email in your pharma marketing plan.
Third-Party Lists
The most accessible way of sending emails to a large number of HCPs is to buy a list from a third-party vendor. This might be a professional network like the American Academy of Pediatrics, a continuing education website like Healio.com, or a publication network like Elsevier.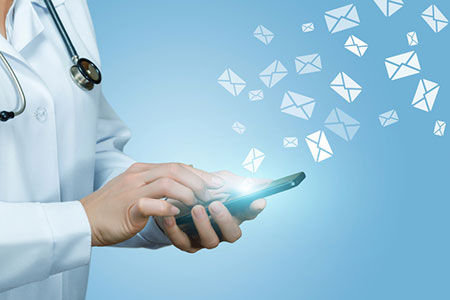 Obviously, the key to leveraging this tactic is to create a compelling reason for HCPs to open the message. A straightforward subject line that addresses a common problem that HCPs face will increase open rates. For example, if your product is a tier-1 or tier-2 formulary product in a market where your competitors are tier-3, then promoting better insurance coverage without loss of efficacy would be important to include in your subject line.
Make sure you also provide a download or link in your email. This will allow HCPs to become prescribers or at least visit your website to learn more. A downloadable item like a copay card can be tracked and measured when it is redeemed at a pharmacy, and a link can communicate information about who converts on your website. These tactics will allow your digital advertising team to focus in on subject matter that worked, allowing you to cater future emails to your audience.
Email Automation on Your Website
Email automation in pharmaceutical marketing is more advanced, but it is also more effective. More than anything, HCPs want unique marketing messages that address specific needs.
Obviously, this can't be done by targeting one list of names. You don't know who needs what information. But if you get HCPs on your website, you can solicit email subscriptions in a highly visible call-to-action on every page of your HCP site. Each page can have its own version of the email. So, if someone provides you with their email on the dosing page, an email with expanded or downloadable dosing information could be readily available upon request.
To achieve this, make sure your website content is correctly siloed. Each page needs to offer focused information. This way, the email subscription option on that page will trigger emails to that user with additional information on that topic. To build these leads, you can simply update the content of each email list topic occasionally so that these messages don't become stale.
The beauty of this method is that once an HCP is in your email list, you can add target them with other tactics. You might add their email to a retargeting list. Or, you might build a custom audience that can be served a unique alert on apps like Epocrates. Once you have someone's email, the ways that you can target them are very flexible.
The Big Takeaway
Like all advertising, some tactics will work better for certain audiences. But email, programmatic advertising, and Google advertising are always relevant to some degree.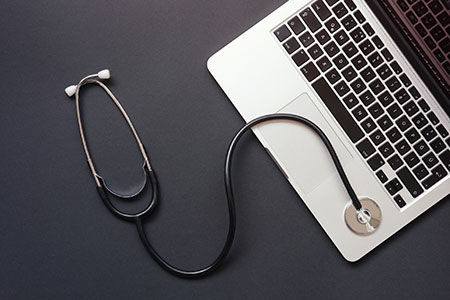 What really separates average usage of these tactics from excellent usage is communication between the sales team, the marketing team, and the digital team:
Let your digital team know that an HCP mentioned a programmatic banner ad to a sales rep—and let them know what site it was on. Your digital team can use this information to make sure they always hit that site. They will also be able to use the site category as a guide for prospecting similar sites.
Inform your advertising team if one territory is lagging behind in sales. Your digital team can analyze different geo factors in its targeting and focus more heavily on areas that are struggling. It may be that competitors have a particularly strong presence there.
Update your HCP email list as often as possible and send it to your digital team on a regular basis. Your digital team can build lists of emails to target on Google, and can use your email list in combination with lead generation campaigns to created added coverage.
The more context campaign planners and optimizers have, the more effectively they will be able to plan.
Lastly, always be learning! There are always new tactics coming out, and we're dedicated to exploring them. Visit the bfw Life Sciences blog for healthcare marketing news and strategy content.