Cadence—the pattern and pacing of your brand messages—is sort of like a relationship with an old friend from school. You check in with them every now and then, and occasionally you'll meet up for quality time. Keeping your brand top-of-mind and making the occasional selling push is a lot like maintaining those relationships. You have to keep in touch with your audience just often enough to foster brand familiarity without overdoing it. Then, when the time is right, you can make the extra effort and get some face time.
Our audience's attention is harder to get than ever. There are more distractions than there used to be. The personal access we have to our audiences has been interrupted by increased workloads, increased responsibilities, and—more than anything—increased competition for their attention.
Well-crafted messaging and creative assets are key to making the most of marketing campaigns, but so is cadence. A campaign with compelling messaging and memorable creative deserves a well-thought-out customer journey. Here are some tips for establishing effective cadence for your marketing activities.
Brand Awareness Pharma Cadence
Brand awareness campaigns—those "Hey, just checking in on you" messages—are all about controlling the pacing of your media buys. You want to manage their overlap so that your audience routinely sees, hears, and reads your brand messages.
Math is a big part of it. Calculating gross-point ratings of broadcast media is important because you want to stack the odds in your favor. Correctly calculating the run-time, rating, and reach of broadcast campaigns ensures that a large portion of your audience experiences your brand often enough that it occupies a space in their mind.
Another brand awareness pacing consideration is the organization of campaigns on different media channels (like TV and radio). People remember brands better if they experience their messages with multiple senses. If you can ensure that the same user who saw your TV and print ads in the past two weeks also hears your in-stream podcast ad, they will be much more likely to remember your brand.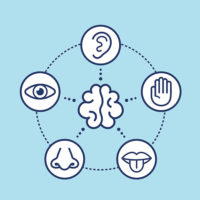 Making sure that audio and visual brand awareness campaigns are reasonably close together (1-2 weeks) throughout the year to reap the brand awareness benefits of multi-channel advertising. As long as you have ensured overlap of the audiences of such campaigns, you will reap the benefits of multi-channel marketing.
With this taken care of, you can fill in the gaps with PPC platforms like Google Ads. Remarketing and Display Network campaigns allow you to control the frequency of impressions on a user-by-user basis. This allows campaigns to hit a large audience with an appropriate number of impressions per individual.
To accentuate multi-channel and display exposure, more audience-specific tactics like print advertisements for HCPs or influencer campaigns for patients can be layered in to give your brand's messaging more authenticity.
Repeating this process during the troughs of the year will help keep your brand top-of-mind without overdoing it.
Cadence for Pharma Lead Gen Campaigns
The success of lead generation campaigns hinges on well-planned customer journeys. Any PPC marketer will tell you that engagement rates drop off sharply after 3-4 impressions. When you couple this shelf life with the fact that message recall drops off steeply after a couple days, establishing a well-timed progression of tactics becomes very important.
There's usually a trigger for your lead gen campaign. There's a reason you choose a time to make a push. Whether that is an HCP conference, the launch of a new product, the yearly rollover of insurance plans—or some other trigger—analyzing historical data can help you establish a game plan.
Using Google Trends to identify the duration and timing of this interest can help you plan your campaign around the increased interest. Granted, there's no way of predicting the when exactly interest will peak based off of historical analysis alone. However, the data will provide a time frame within which you can craft a customer journey.
The example below is Google Trends' data on searches for "NACDS" during August and September. The conference was August 24-26.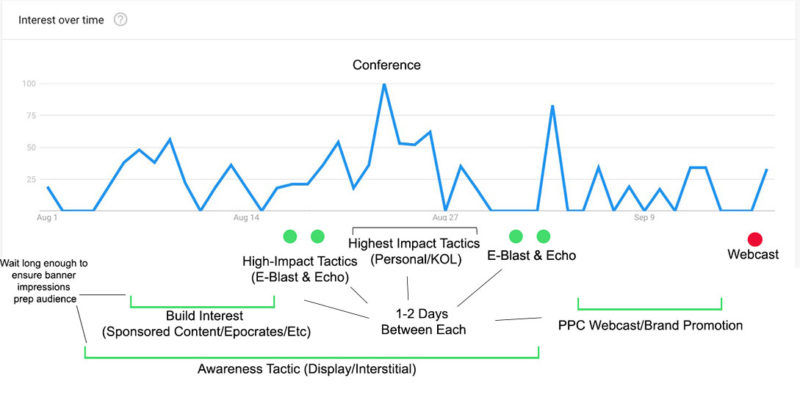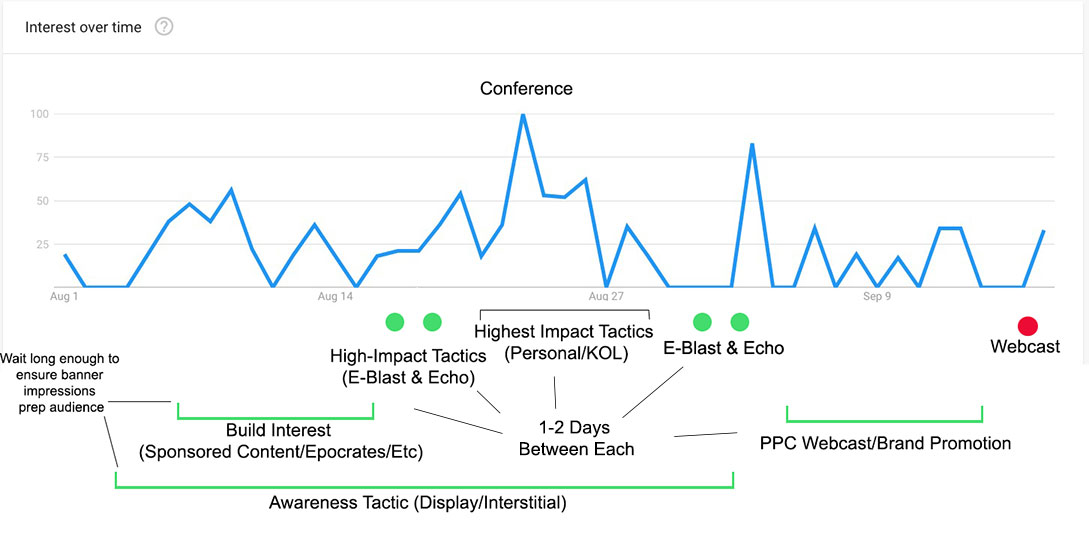 In general, you want to cluster your lead generation pushes so that your tactics build off of each other. Build to a climax by placing increasingly more engaging tactics. Google trends data will show you how many weeks before the event that interest starts to pick up. From there, you can work with your vendors and sales teams to craft a customer journey.
Then, strike while the iron is hot in the days following the climax. Offer them one more chance to connect with your brand by sending them an email invite to an interactive event like a KOL-hosted webcast. This resource will allow them to ask the questions that they didn't have time to pose before.
Pharma Content Cadence & Keeping Your Brand Discoverable
Our NPP article talked about the importance of limiting frequency and instead providing content when it's needed. The best way to do this is to collect audience feedback whenever possible and to create content that meets those need. Providing feedback-informed pharma content and making it discoverable will go a long way in earning brand loyalty.
The rule-of-thumb among SEO experts is that It's important to post content to your site at least once per week. It doesn't have to be grand in scope either. Simple lifestyle tips, industry developments, breakthroughs, and other topics that are related to your product will confer search engine visibility benefits to your brand.
At the end of the day, regularly posting this content will help you earn qualified leads that you don't have to pay for.
It's also a good idea to have multiple pharmaceutical Google Ads campaigns running at all times. An HCP-facing campaign is particularly important to earn mobile traffic from physicians. About four in five HCPs use their mobile devices for work purposes. A campaign that is active during work hours, is optimized for conversions based on website behavior analytics, and directs mobile users to easily browsable landing pages can help HCPs find information quickly. Once a clicker has left your site, they can be remarketed to with cost-efficient display banners that help keep their favorable interaction with your brand in the back of their mind.
Epocrates DocAlerts, disease resource center takeovers, and branded sponsorship of continuing education resources can also help earn interest and drive traffic to your website.
Not To Beat The Metaphor To Death, But…
At the end of the day, make your brand like an old friend to your audience. Check in on them with well-paced brand awareness. Let them know you're going to be around to chat at the conference. If they can't make it, you can FaceTime and talk about how the conference went. And be there for them when they need you.
A good friend is there when needed at a moment's notice and with a shoulder to cry on. And clickable links. They're both pretty important.